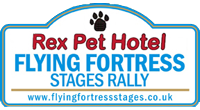 Rex Pet Hotel Flying Fortress Stages 2019
The 2019 Rex Pet Hotel Flying Fortress Stages will take place on Sunday 16th June 2019.  This single venue stage rally will be held on a former WW2 American 8th Air Force Base which is part of a Private Estate in Northamptonshire. The venue was first used for motorsport in 2012 and has received a full entry each year.
There are improvements to the stages each year giving us a greater choice of stages routes. The event will offer competitors 54 stage miles in eight stages. The event is a qualifying round of the EMAMC Stage Rally Championship, the ANEMMC Stage Rally Championship and the AEMC Stage Rally Championship plus the 5th round of the popular Dukeries MC Rally Championship.
Scrutineering is from 2.30pm to 5.30pm on Saturday 15th June.
Marshals are required to assist with the setting up on Saturday and running the event on Sunday.  Contact David Baugh david-baugh@outlook.com if you are able to help.